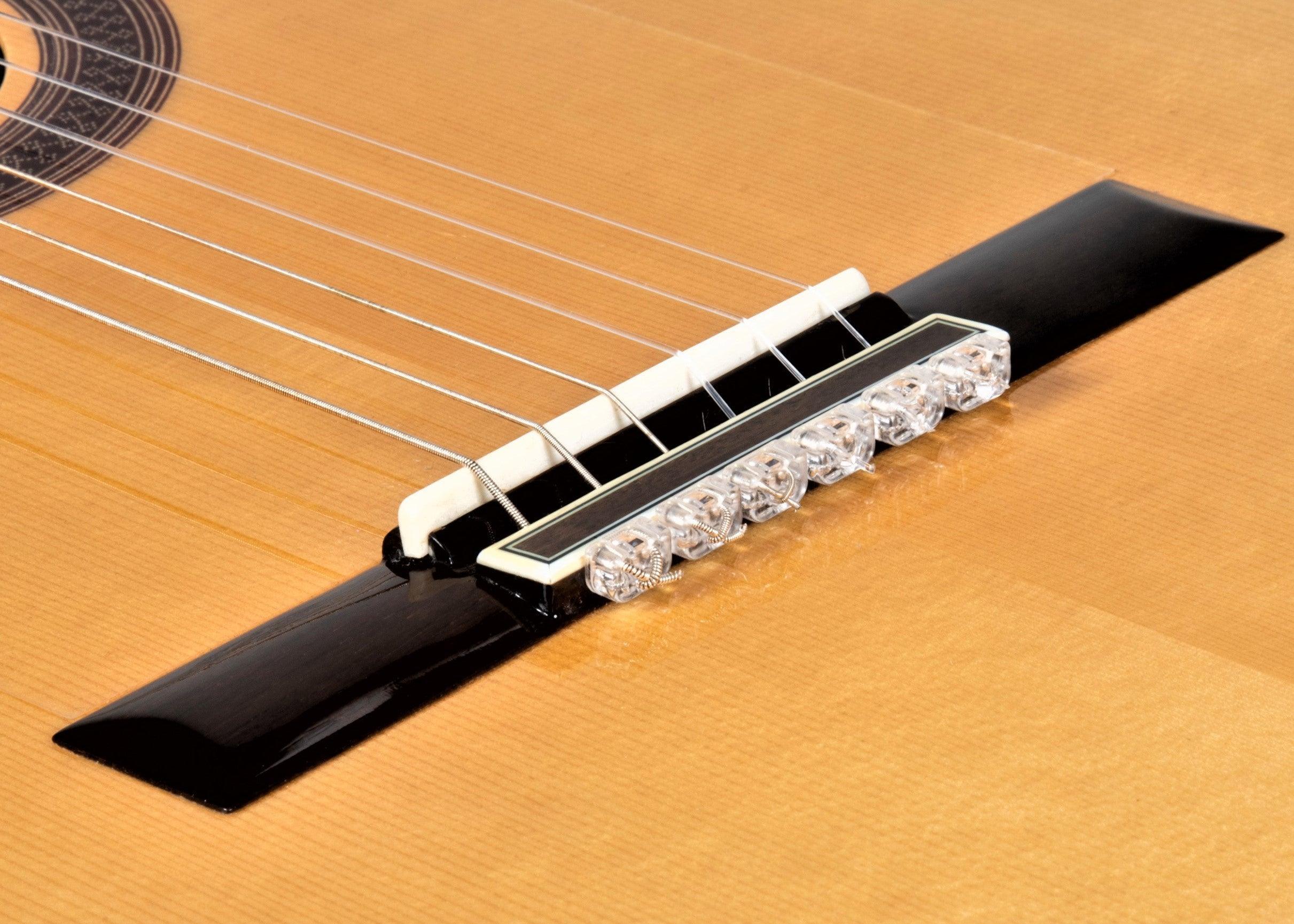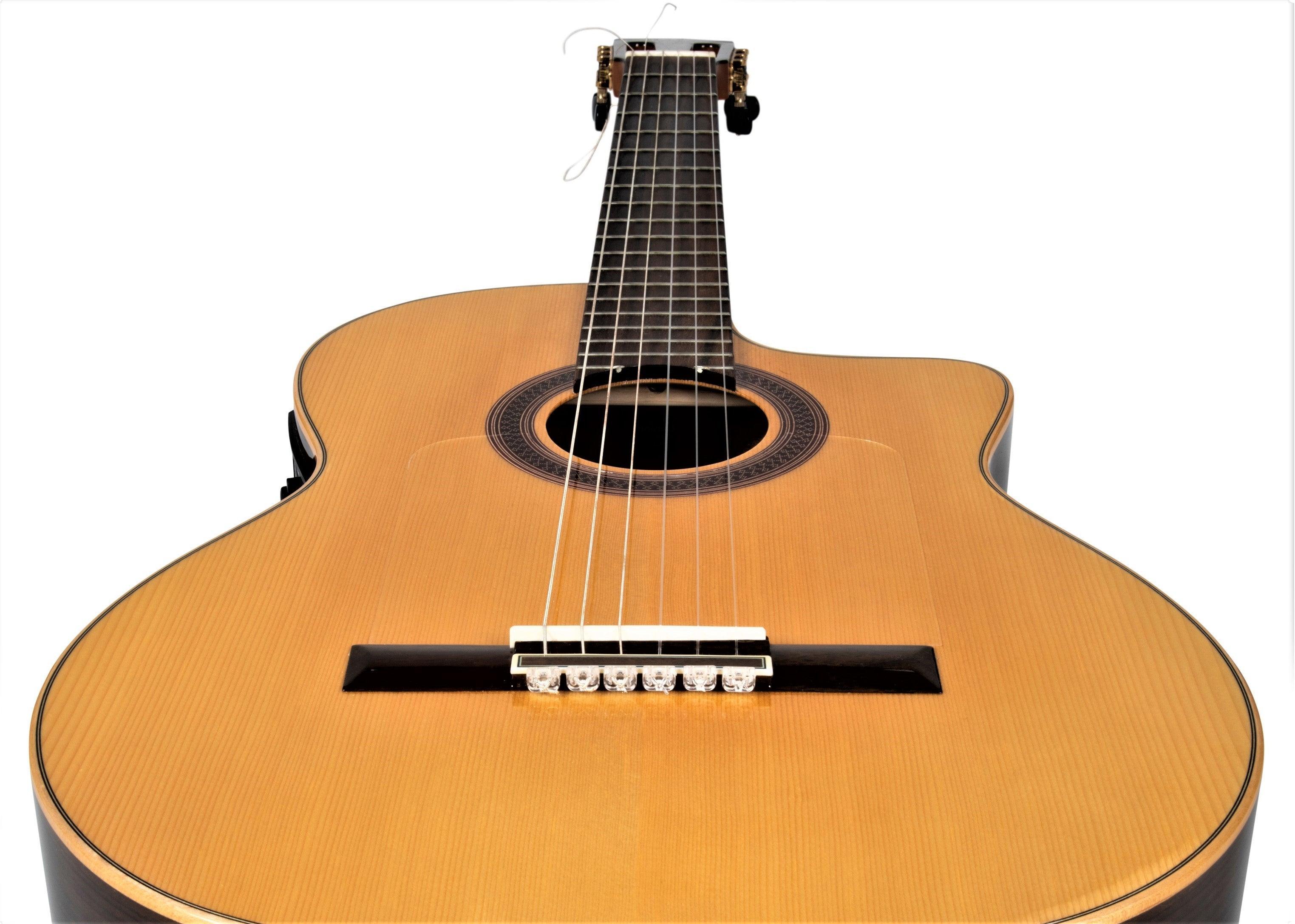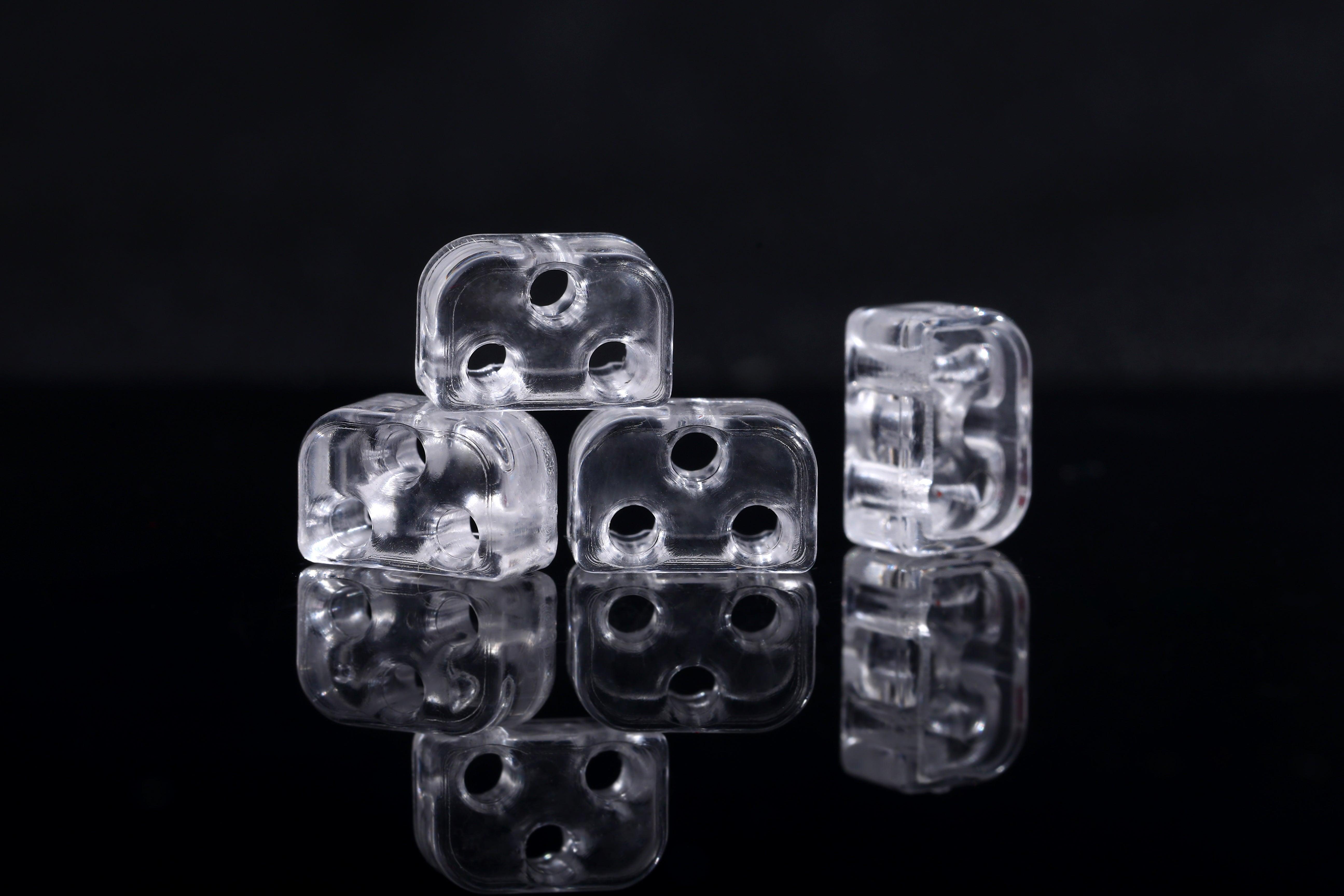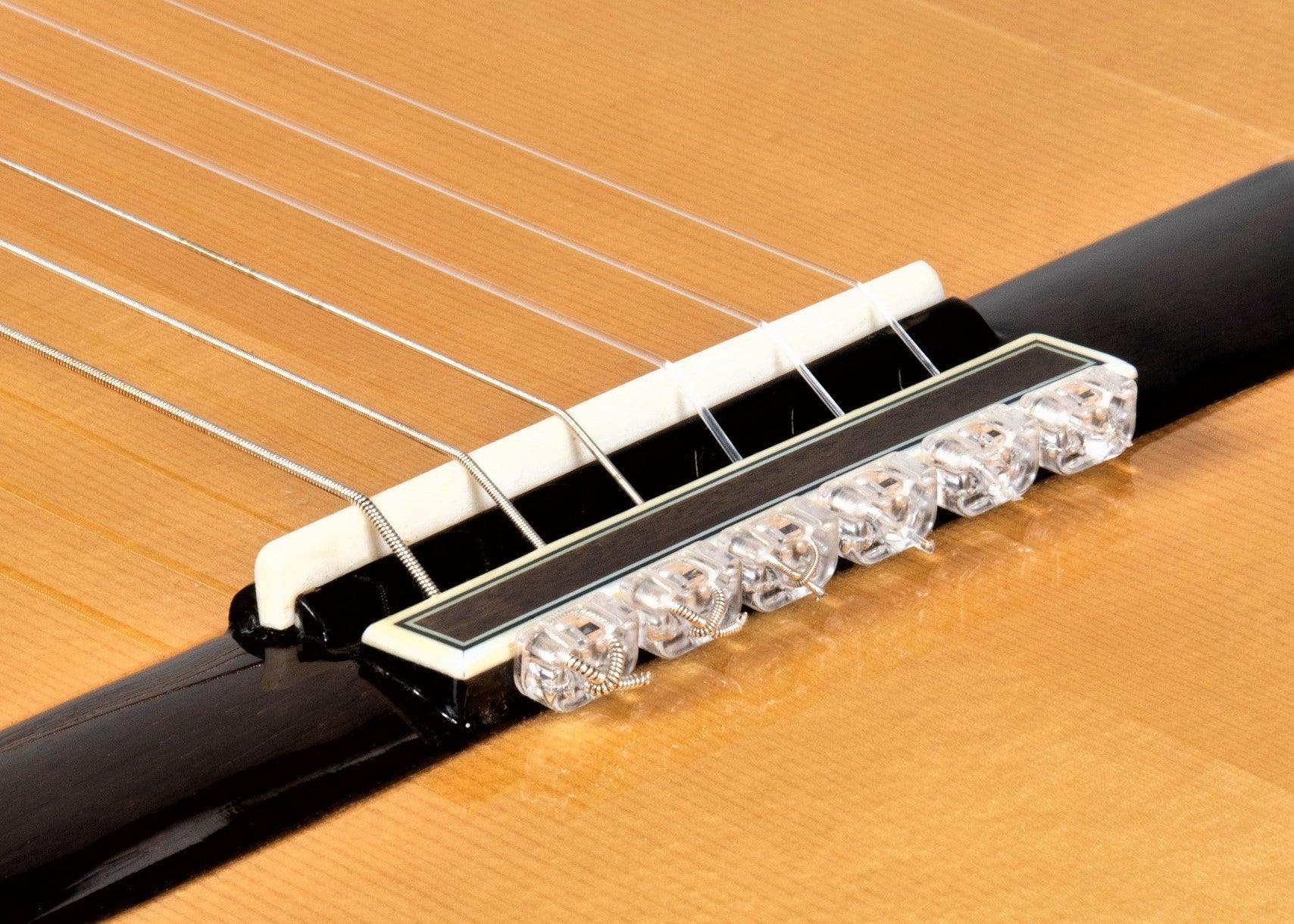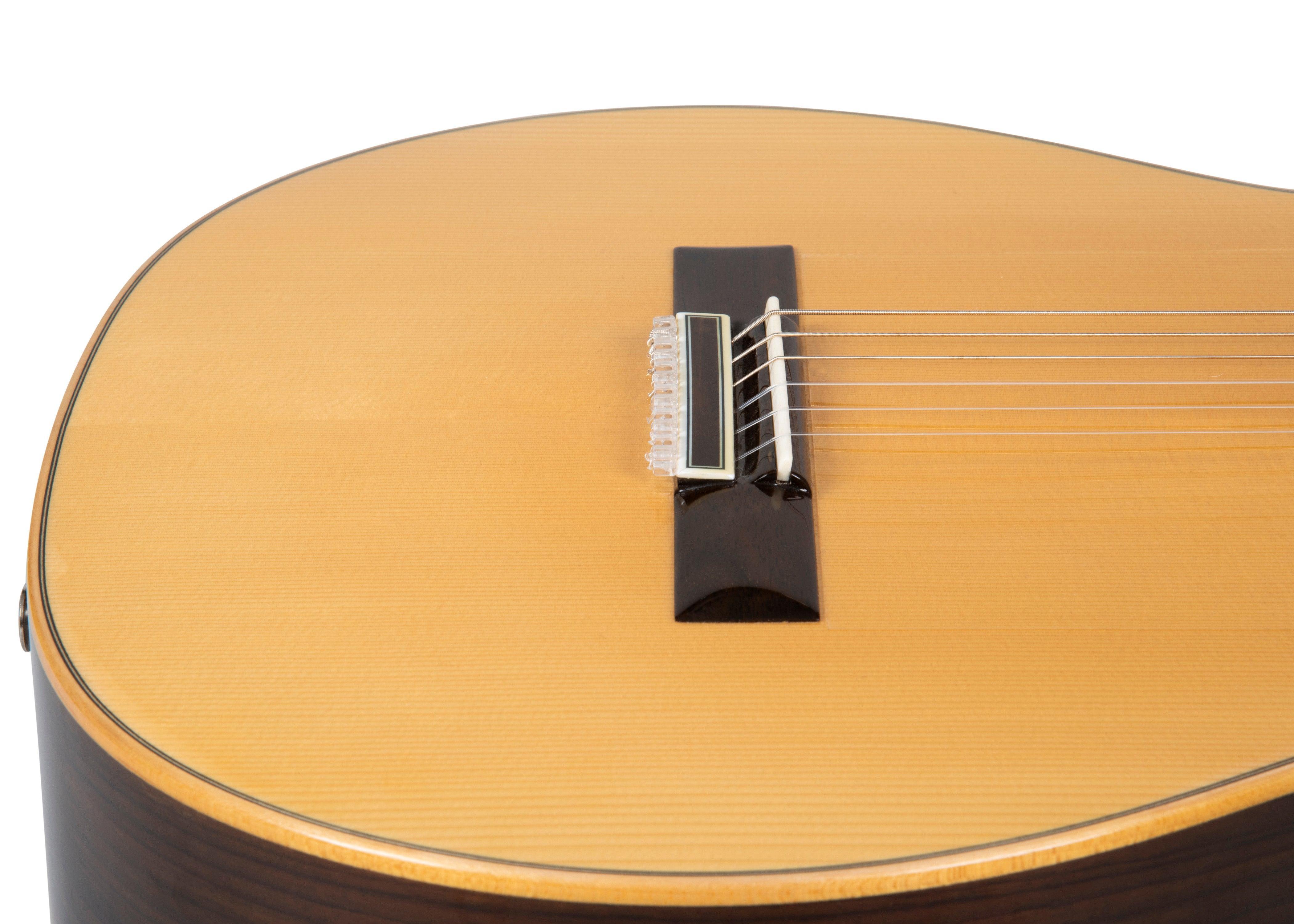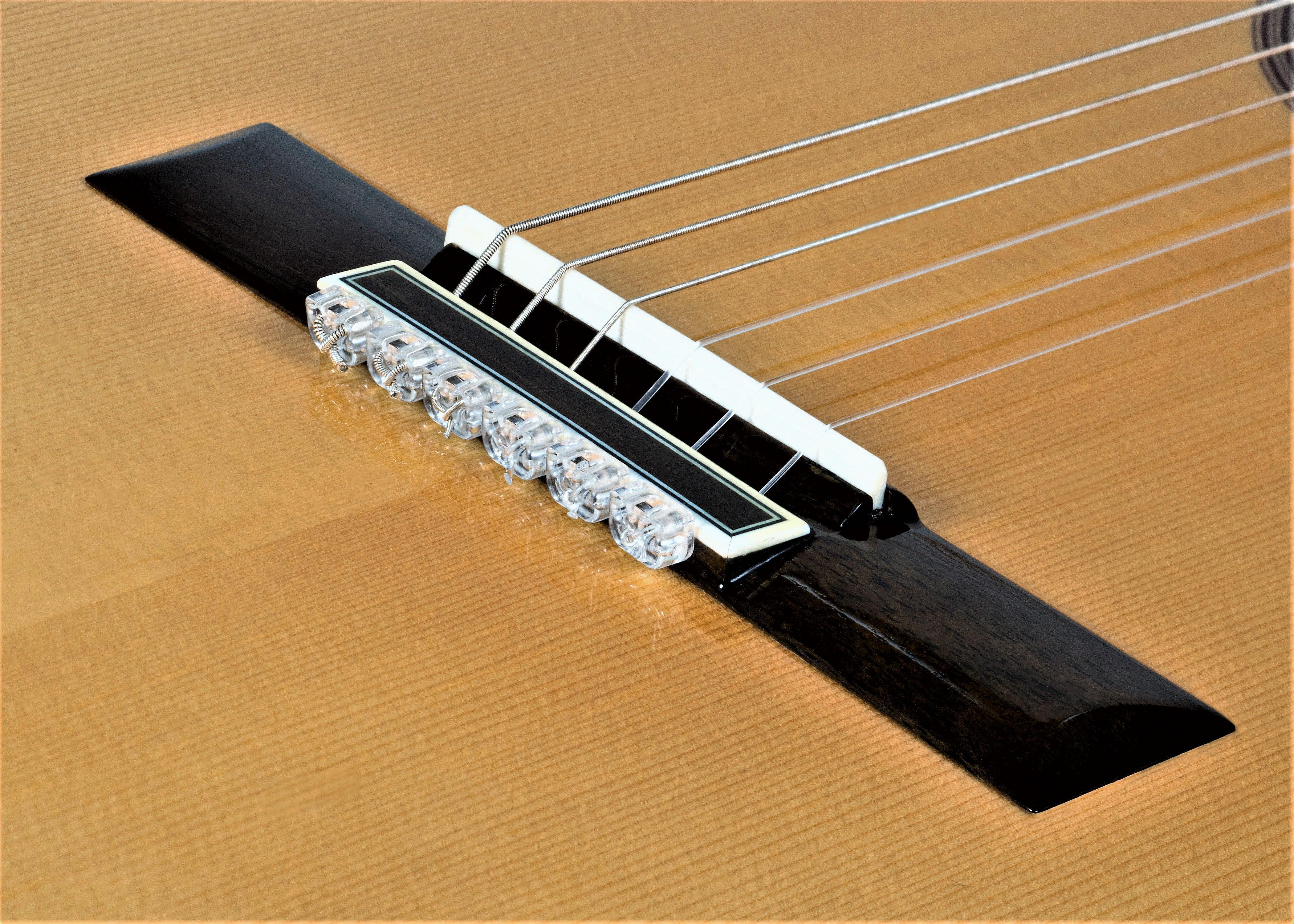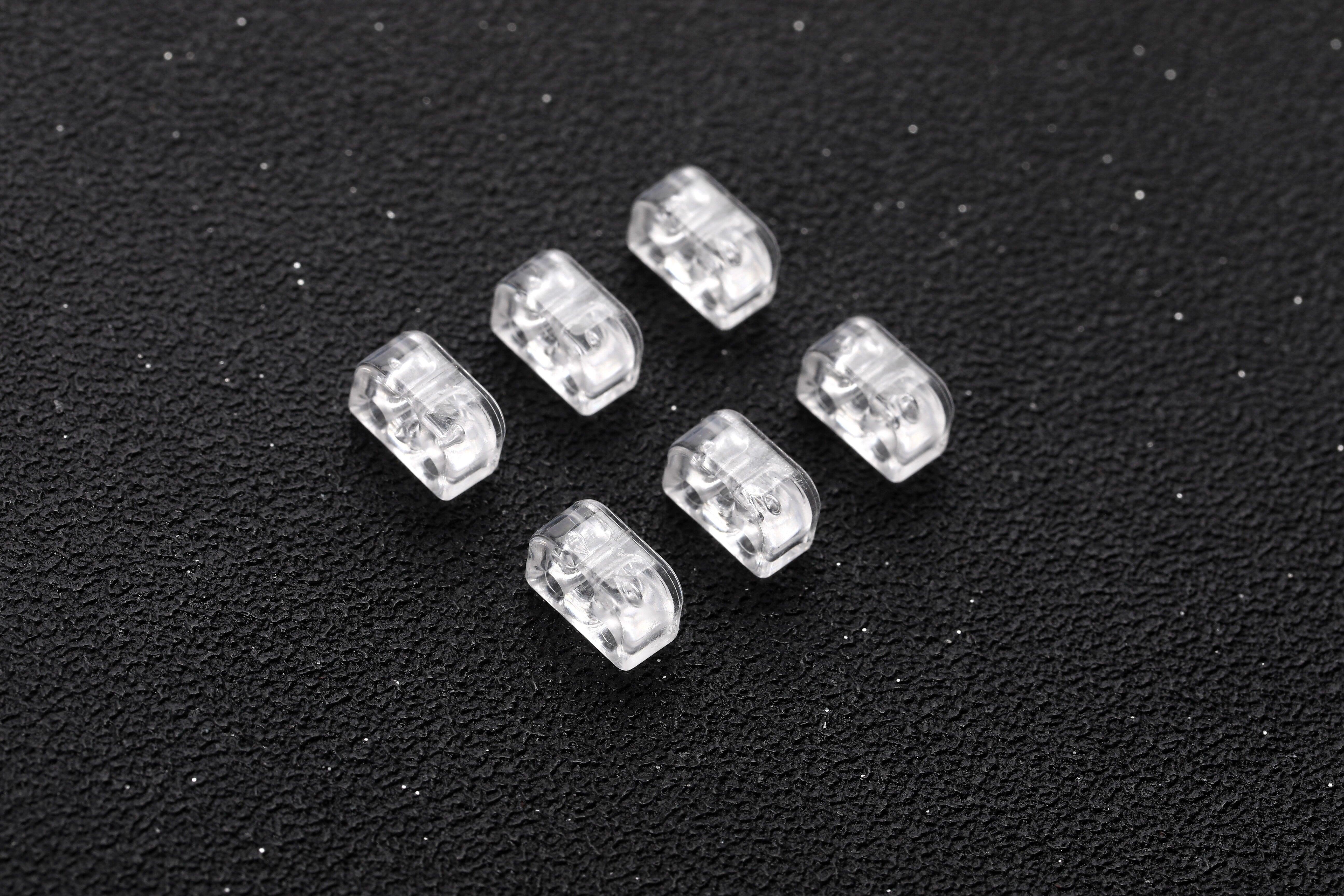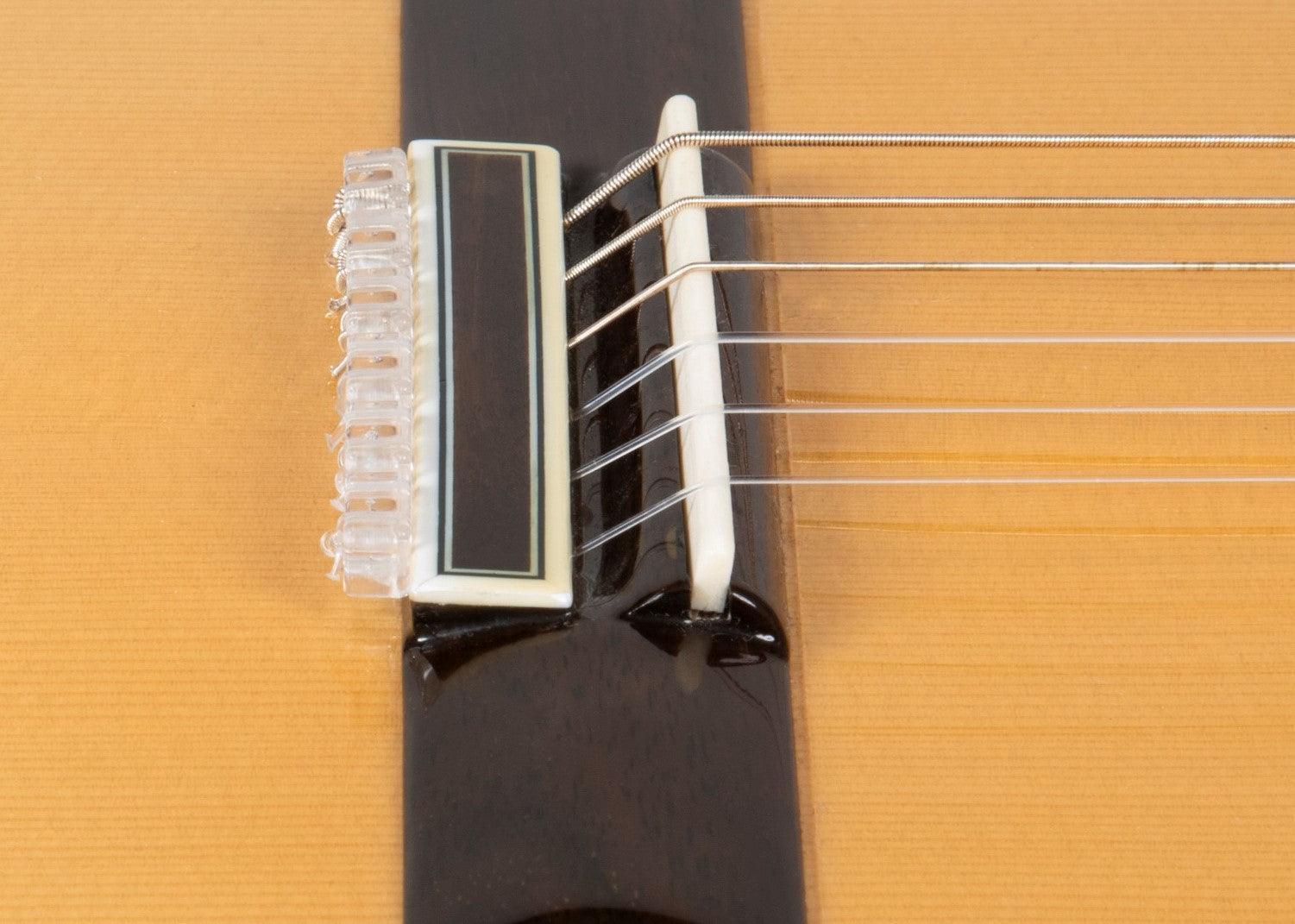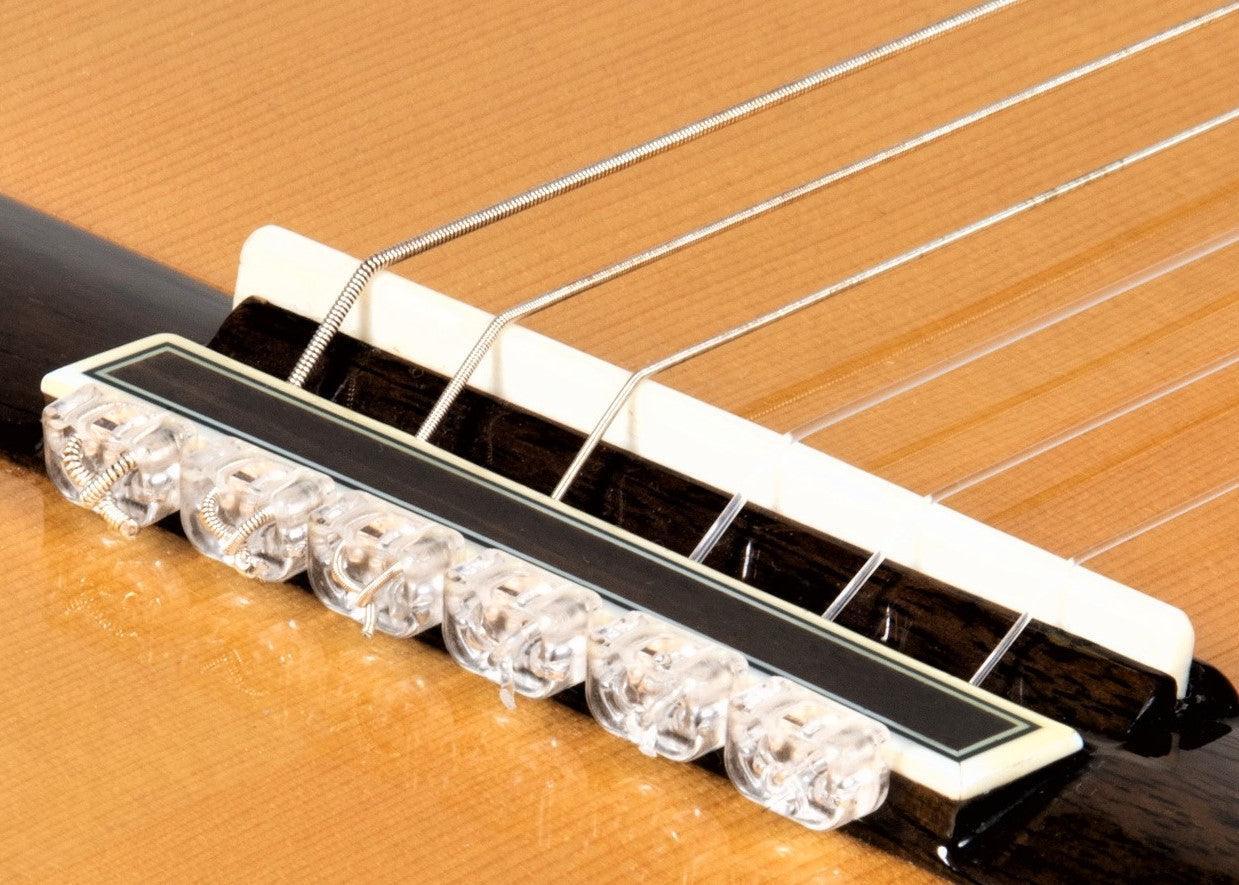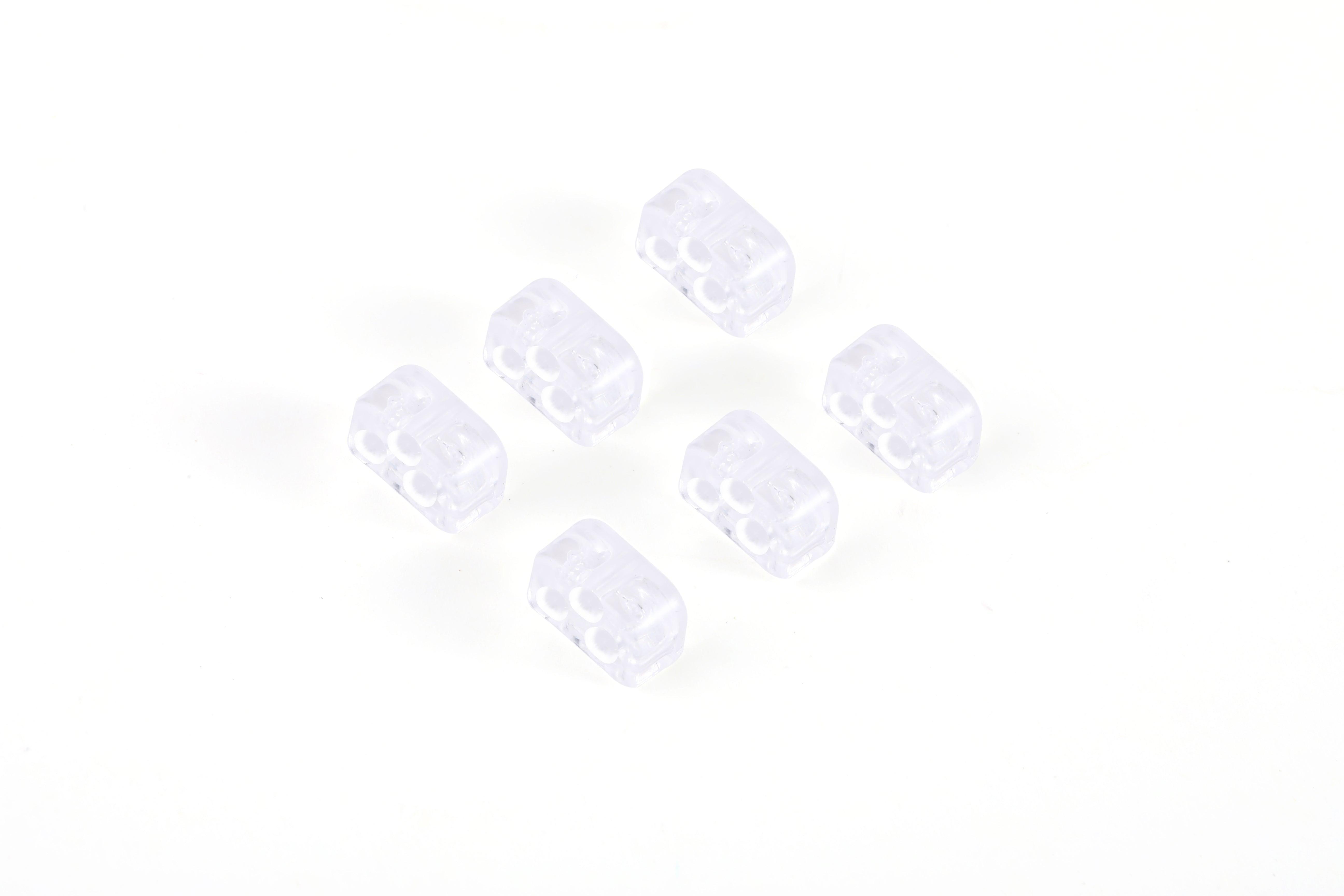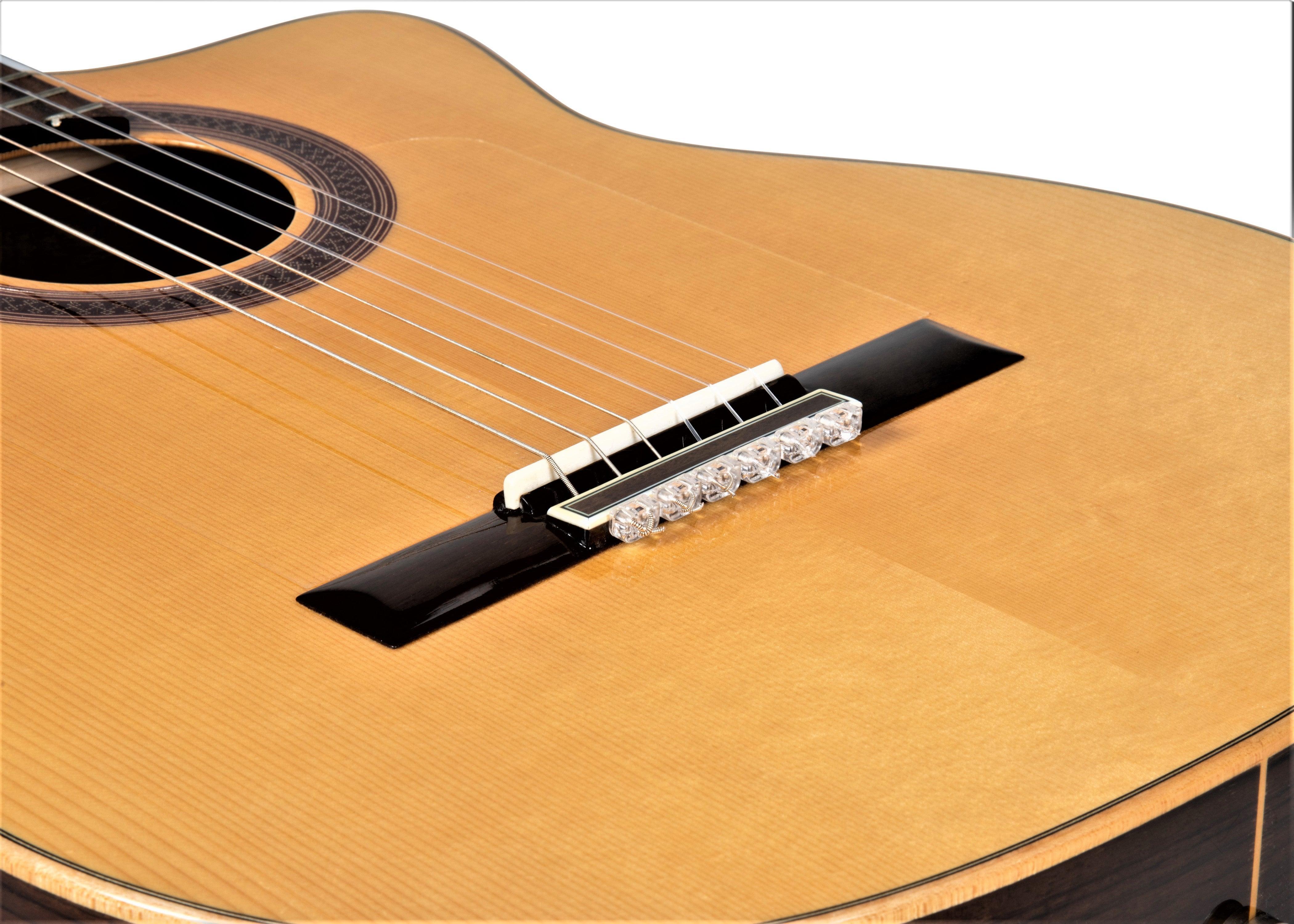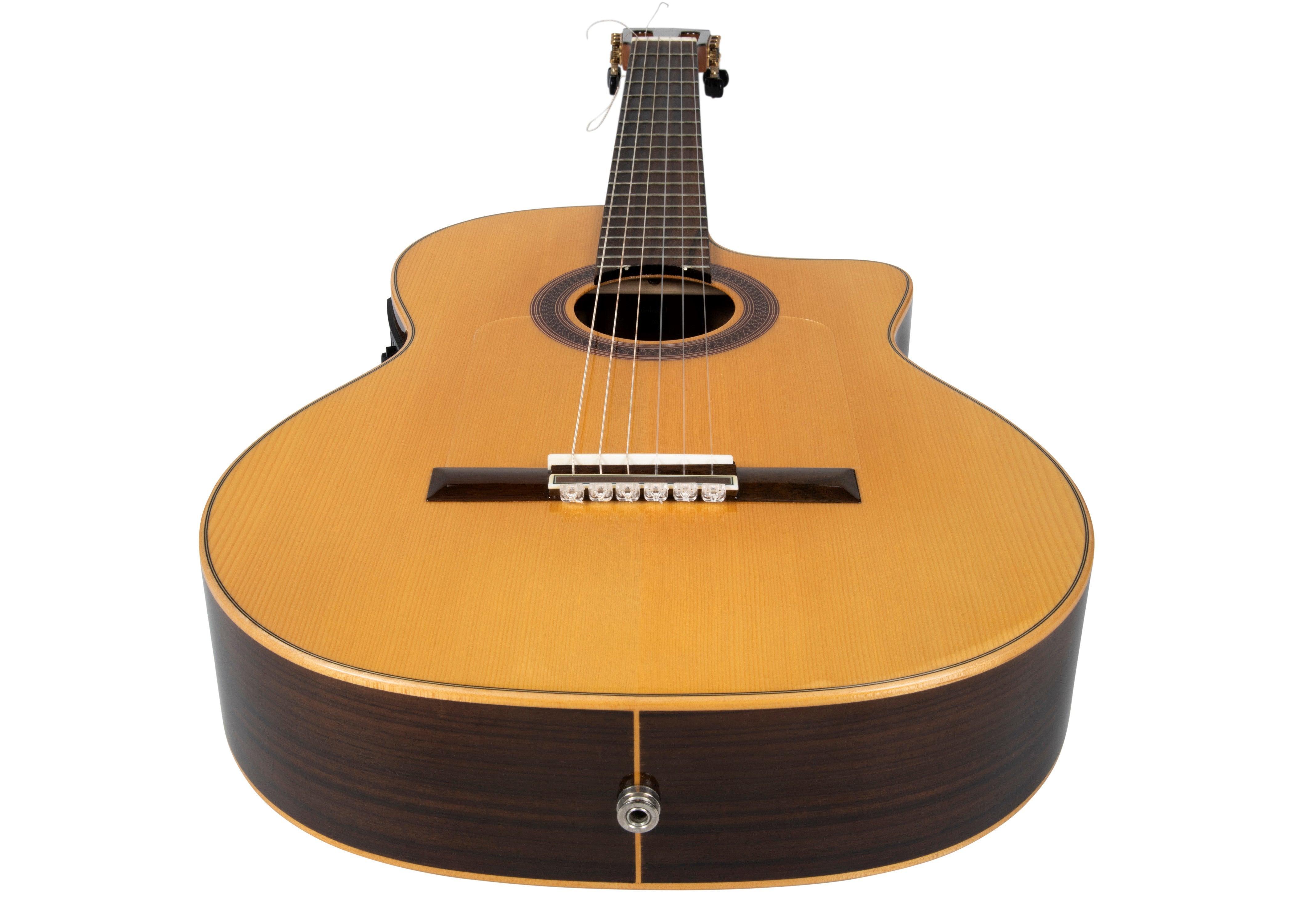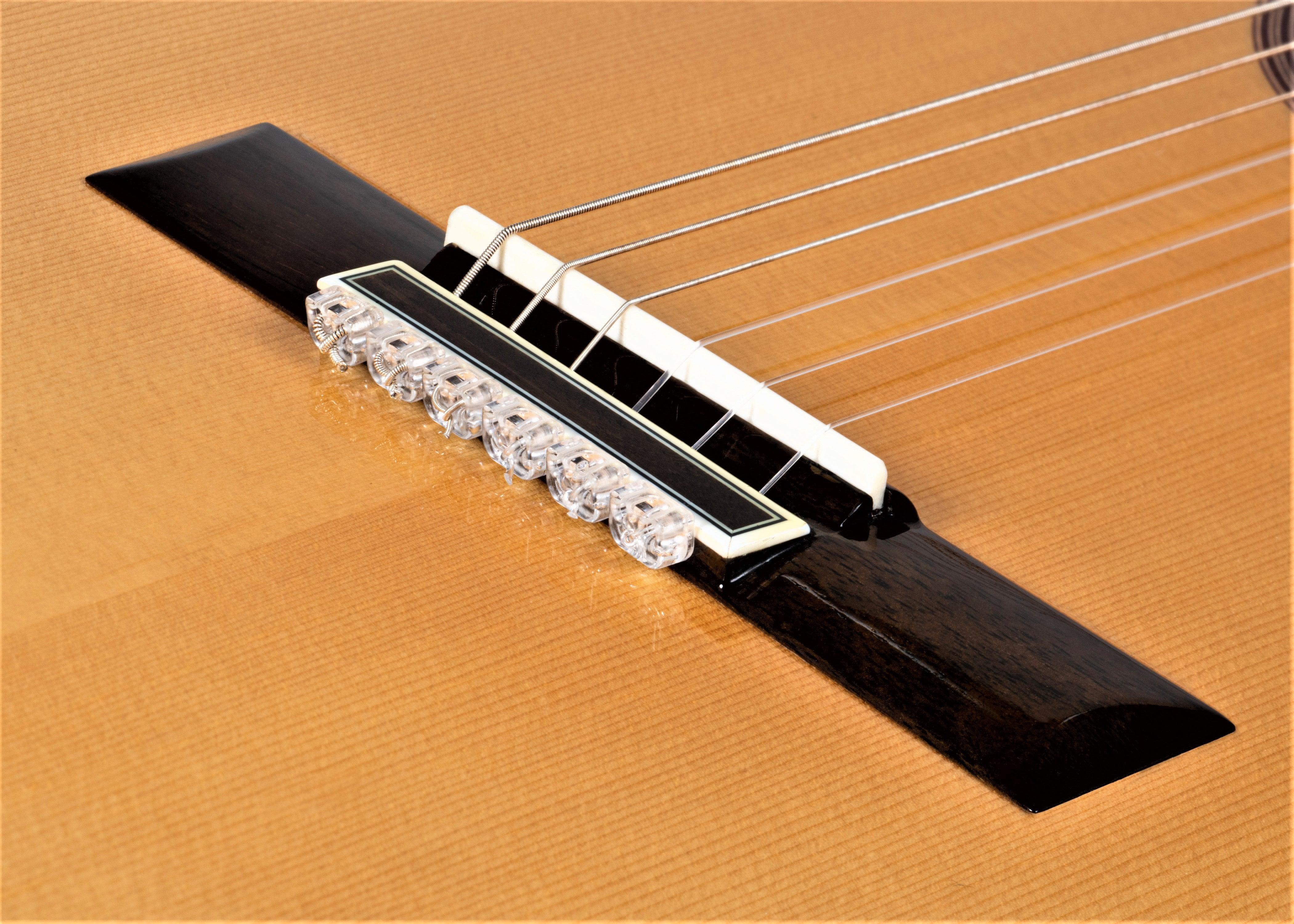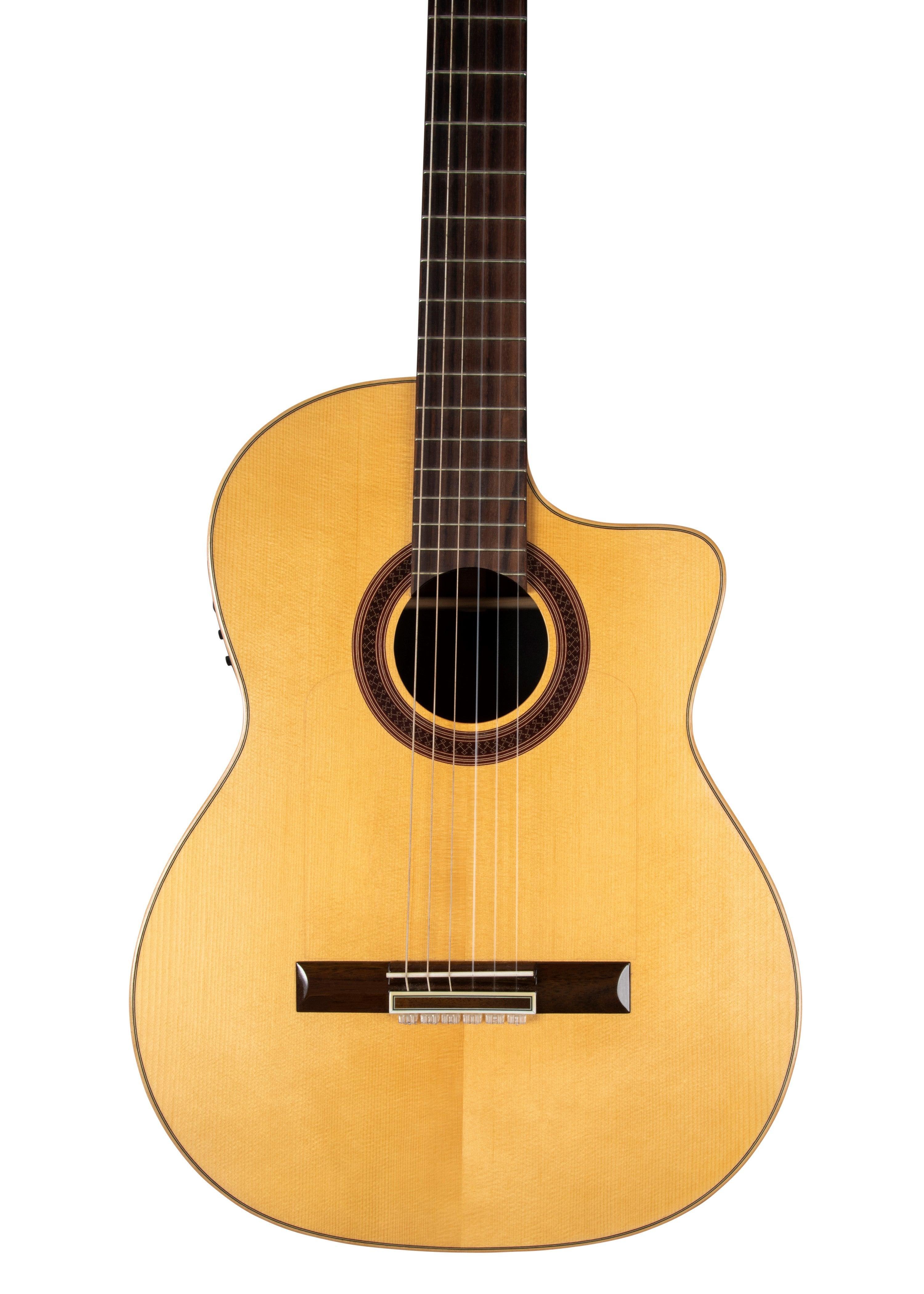 Transparent Gloss Classical Flamenco Acoustic Nylon Guitar Bridge Beads String Tie Blocks
---
Our new line of plastic beads is the latest premium offering from our brand, Alba Guitar beads. The plastic product range has changed since the first plastic beads models appeared a few years back. Our last iteration, which we call the classic series, focuses on six different colours – dark brown, black, white ivory, red, orange and transparent. We built our traditional beads line to supreme craftsmanship levels, and using them will make your guitar play beautifully and sound incredible.  
The series merged general aspects of the most popular colours of the guitar bridges and guitar tops. We like to think these models are striking and vital for covering most classical and flamenco guitars. When we play the guitar with our products fitted, we get thrilled and celebrate that we can extend its sonar abilities and extract the best sound.
Created for the classical and flamenco guitar players, we collaborated with some of the leading masters of the classical and flamenco world to achieve outstanding results. The classic plastic beads are visually remarkable and eye-catching and have extraordinary sonic qualities.  
The classic line of beads brings the authentic guitar sound out - a bit more pure, deep, and warm, from the vibrant, rich to the smooth tone and eloquent sound.
If you are working on your tremolo and improving your skills when playing Recuerdos de Alhambra or learning new bulerias, our new series provides a dynamic and engaging acoustic response. Our customers love our products for both new boutique guitars and old, vintage guitars. And the classic series is capable of more than ticking all the boxes.
The classic bead line articulated fantastic against both polished, pristine classical guitars and knocked up, battered from decades of hard golpes flamenco guitars. Whether trying to preserve your guitar bridge and improve your guitar tone on your old, precious vintage instrument or squeeze out as much sustain and volume from your new custom-made luthier guitar, our lines of beads are your ideal choice.
We collaborated with fantastic world-class musicians to create our beads series. We relied on their ears and decades of experience to make our products they'd use in front of thousands of fans. The sonar capabilities and the attractive appearance of our products are sufficient to satisfy the needs of the wider audience. From professionals to students and enthusiasts, our lines of beads will help you shape your unique sound and style.
Guitar string beads for Nylon Classical, Flamenco and Tenor guitars, ukuleles, and other nylon string instruments.
Great 3D design for ultimate performance and fit on your bridge!
Round shaped, without hard edges to prevent scratches on your bridge and for utmost comfort!
Very lightweight, our beads aim to improve your tone and sound!
Change your strings on stage within minutes! Keep a spare set in your bag, ready to go at any time!
Our beads will keep your guitar in tune for longer!
Designed in Scotland and made in the UK!
PRODUCT INFO

EVERY STRING BEADS SET INCLUDES:
• EASY-TO-FOLLOW INSTRUCTIONS
• LIGHTWEIGHT ROUND DESIGN SET OF 6 BLACK BEADS/TIES in a gorgeous velvet pouch (Less than 10g)
Our round-edged string ties are made of Nylon, a very durable material similar to the material from which nylon strings are produced. We enclose a set of instructions, a diagram, and an example tie to follow to change your lines within minimum time and effort. In short, you will create a straightforward standard knot, as if you were tying the string around the bridge when you strung your guitar, without the beads. Then, you will thread the line through the three holes on the bead/tie and tighten up your string with the tuning peg. With any string instruments, this technique has been used for years, if not centuries, in Spain, Southern Europe, Africa, and Southern America and worldwide.
COMPATIBLE WITH ALL TYPES OF BRIDGES (FLAMENCO, CLASSICAL ETC.) AND ALL NYLON STRINGS (HIGH TENSION STRINGS*), GUT STRINGS* AND CARBON STRINGS*
RETURN & REFUND POLICY
RETURN & REFUND POLICY
YOU CAN RETURN YOUR ITEMS WITHIN 30 DAYS, NO QUESTIONS ASKED!
Just pop the beads in the same envelope you've received, drop them in your local post office and send them back to us. Please keep proof of postage in case your return gets lost in the post. 
WE KNOW YOU WOULD NOT – OUR BEADS WILL CHANGE THE WAY YOU RESTRING YOUR GUITAR AND YOUR TONE FOR THE BETTER.
SHIPPING INFO
FREE SHIPPING TO EU, USA and UK for orders over 24EU/24USD/24GBP!
Flat £2 Shipping fee everywhere else in the world!
FREE SHIPPING WORLDWIDE  for every additional item!
We aim to dispatch your beads on the same day!
This product has no reviews yet.